Civil Powers of Arrest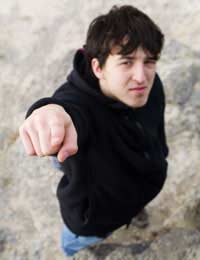 Under the law of England and Wales, members of the public are allowed to use reasonable force to make a lawful arrest. The situations in which a citizen can lawfully make an arrest are, in fact, identical to those in which a police officer can make an arrest. A citizen can lawfully arrest a person:
Who is committing an arrestable offence or if the citizen has reasonable grounds to suspect that they are committing an arrestable offence. – Arrestable offences are ones which, in law, carry a power of arrest. These include theft and most types of assault;
Who has committed an arrestable offence or who the citizen reasonably suspects to have committed an arrestable offence;
Who is causing a breach of the peace.
Under recent legislation there may also be the additional requirements that:
The citizen could not reasonably have called on a police officer to carry out the arrest; and,
The arrest was necessary to prevent injury, loss or damage of property, or to prevent someone avoiding arrest by a police officer.
In practical terms it is likely that most ordinary citizens would not contemplate trying to arrest someone unless the above two situations applied.
Since putting someone under arrest almost certainly includes an element of force there may be little distinction between:
A citizen's right to use force to carry out a lawful arrest; and
A citizen's right to use force in self-defence, in defence of someone else, to protect property or to prevent a crime being committed.
What is a Lawful Arrest?
An arrest, generally, involves physically preventing an individual from moving freely. As a matter of law restricting another person's movement in this way usually constitutes an offence – such as kidnapping. However, if an individual arrests another person in one of the situations described above the arrest becomes lawful. If none of the situations apply the arrest will be unlawful and the individual being arrested will be entitled to use reasonable force to resist it.
Technically for an arrest to be lawful, the individual arrested should also be informed that they are being arrested, and why, as soon as this can practically be done.
Reasonable Force
The amount of force that is reasonable to carry out a lawful arrest will depend on the circumstances of each case. The question will be:
Was it reasonable to use any force in the circumstances as the individual who used the force believed them to be?; and
Was the amount of force used reasonable?
An individual acting on the spur of the moment to make an arrest is not expected to weigh up all the factors and make a calculated decision about how much, if any, force is justified. However, whether the use of force was reasonable will depend on various issues including the seriousness of the crime being committed or prevented and the severity of injuries suffered by either party.
Now What?
Once a citizen has placed someone under arrest they will then have to decide what to do with them next. For the arrest to remain lawful, the citizen will have to detain the individual until a police officer arrives. Once again, what is reasonable will depend on all the circumstances of the case.
Crown Prosecution Service (CPS) Approach to Civilian Arrests
Citizens are to be encouraged to act responsibly and in a public-spirited way. However, they cannot be allowed to take the law into their own hands. If the CPS has to decide whether to bring a prosecution against an individual, who was carrying out a citizen's arrest, they will try to strike a balance between these two objectives. Even where there is a suggestion that the amount of force used was excessive the CPS will still think very carefully before bringing a prosecution against an individual. The CPS is reluctant to prosecute such cases because of the public benefit provided by those who are prepared to get involved when a crime is being committed.
You might also like...