Physical Intervention in a Crime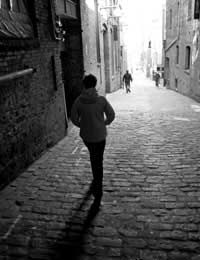 An individual is entitled to use reasonable force to prevent a crime being committed. If that individual injures the person committing the crime they are extremely unlikely to face prosecution for their actions. However, increasingly there is a very real danger that the person intervening may themselves be seriously injured.
Weapons
It is a criminal offence to carry a weapon or something that could be used as a weapon – especially if it is being carried for that very purpose. Carrying something that could be used as a weapon just in case it is necessary for self-defence is still an offence.
For example, if a woman puts a pair of nail scissors in her handbag because she knows she is going to have to walk home alone late at night she is almost certainly breaking the law.
The reason that such a strict approach is taken to the possession of weapons is to protect the honest citizen. If the law is this clear cut, a criminal who is stopped and found to have a weapon cannot get away with giving an excuse for why he had it. However, people who carry weapons for illicit purposes are evidently not that worried about breaking the law. Therefore, if an honest citizen decides to use force against someone committing a crime they may be risking serious injury.
Have-a-go-Heroes and Hoodies
"Every bone broken in have-a-go hero's face." "Have-a-go hero attacked by vandals." "Judge praises have-a-go hero." "Posthumous bravery award for have-a-go hero."
The situation is confusing. On the one hand, we are encouraged to take responsibility for each other and not to walk by if we see an offence being committed. On the other, every day the media seem to carry yet another horror story about what happens to people who do get involved.
After the recent trial of the killers of a father, the police issued a statement in which they said that members of the public should take responsibility for the behaviour of young people and intervene if they are causing trouble. But it is exactly this kind of intervention which led to the man's death.
The leader of the Conservative Party has suggested that individuals should tell children off if they see them misbehaving. However, children's charities and experts say that adults should not confront children unless they are in danger.
It is hardly surprising if people pretend nothing is happening when they see people causing trouble. And yet, this only serves to perpetuate the problem. If nobody does anything to stop a "gang of hoodies" from vandalising cars or threatening passers-by, why on earth should they stop? And if they can get away with that kind of behaviour, then why should they not take it to the next level?
Vigilantism
Whilst an individual is allowed to make a pre-emptive strike if they are acting in self-defence they are not permitted to go out looking for trouble and then use force when it arises. Whilst the law is very clear that citizens can use fore to defend themselves or to prevent a crime being committed it is equally clear on the subject of vigilantes. Anyone who sets themselves up as an amateur law enforcer will almost certainly be acting unlawfully.
Clarification of the Law
The Government has recently clarified the law on the use of reasonable force and self-defence specifically because they want to encourage people to take action against criminal behaviour. There tends to be a public perception that the law of England and Wales is weighted against the honest citizen – especially when it comes to the question of using force to prevent crime or in self-defence.
The law as it stands is, in fact, very clear: force can be used and the degree of force depends on what the individual thought was necessary at the time. The recent call for a clarification has nothing to do with changing the law to protect the honest citizen from prosecution – it simply emphasises that this protection has been there all along.
You might also like...
whist your article state the law is clear with regard to "reasonable force", I tend to differ on that as"reasonable force". is subject to very wide interpretation, further, there is increasing evidence to suggests that, contrary to the assertions in this and related articles. innocent people are being hauled in for trial for defending themselves because the criminal element have become very adept at finding walyys to skew the case against otherwise innocent people.. further, if we take the underlying tone of this is article to its logical conclusion. the advice seems to be, at a subliminal level saying, "just let them get aay with it, its cheaper"
pathworker
- 23-Jun-11 @ 9:16 PM