Rights for People With Disabilities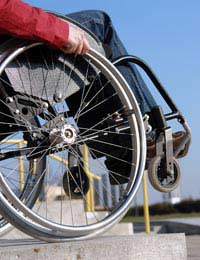 People with disabilities should be able to live their lives as they choose, free from discrimination or harassment. Many of the rights that people with disabilities are entitled to as a matter of law are contained in the Disability Discrimination Act 1995 and the Disability Discrimination Act 2005.
The Disability Discrimination Acts
The Disability Discriminations Acts are intended to end, and render unlawful, discrimination against those with disabilities. The 1995 Act states that people with disabilities are entitled to equal treatment in many areas of life including the workplace, education and in the provision of everyday goods and services.
The Disability Discrimination Act 2005 expands on the earlier law. It obliges public authorities to promote equality for people with disabilities and to prevent discrimination against, or harassment of, people with disabilities. The law also allows the government to set minimum requirements towards achieving equality.
Who Is Covered by the Disability Discrimination Act?
The 1995 Act defined disability as "a physical or mental impairment which has a substantial and long-term adverse effect on [an individual's] ability to carry out normal day-to-day activities". A person who has such a disability is defined as a "disabled person".
The 2005 Act further expanded the definition to include people who have been diagnosed with certain long-term diseases and illnesses - including some cancers, HIV and multiple sclerosis.
Access To Goods And Services
People with disabilities are entitled to have the same access to goods and services as other members of society. "Access" means both the opportunity to purchase or use goods and services, and being able to gain physical access to those goods and services.
Businesses and all those providing goods or services to the public should consider whether the services they supply can be used by customers with all sorts of disabilities.
Under the Disability Discrimination Act, the providers of services are obliged to make "reasonable adjustments" to their premises, or the way they run their business, to ensure that people with disabilities are not excluded or treated less favourably. What is considered to be "reasonable" may often depend on the size and type of the business or organisation in question.
Rights In The Work Place
People with disabilities enjoy the same rights and entitlements as any other person in relation to work and employment. They also enjoy additional protection under the Disability Discrimination Act.
Under the Disability Discrimination Act it is unlawful for an employer – or potential employer – to discriminate against, or treat differently, a person with a disability. These duties include making reasonable adjustments to the workplace to accommodate workers with disabilities. In some cases financial assistance may be available to employers making adjustments to the workplace.
These duties may start before employment begins. For example:
providing application forms in a format that can be used by the blind or partially sighted;
holding interviews in a place which is accessible to those who use wheel chairs; and, crucially;
not rejecting a candidate just because he has a disability. However there may be circumstances where this is justified due to the specific requirements of the role.
Rights in Education
The rights of disabled people in relation to education are now primarily covered by the Special Education Needs and Disability Act 2001. This applies to school children, students in higher education and adult learners.
Under the Act educational establishments must ensure that people with disabilities are not treated less favourably than other people. Providers of education must also make reasonable adjustments to ensure that education services are equally accessible to those with disabilities.
Schools and Local Education Authorities have additional duties to make provision for children who are stated to have Special Educational Needs under the Education Act 1996. Although these duties only strictly apply to students up to the age of 19, social services may provide additional support to those going into higher education.
Help for Those Facing Discrimination due to a Disability
The Equality and Human Rights Commission was formed in 2007. Amongst its functions, it took over the role previously held by the Disability Rights Commission to protect the rights of people with disabilities and to promote. Anyone who believes that they have been the victim of discrimination or harassment, due to a disability, can get advice about their rights and possible remedies from the Commission.
You might also like...
I have been caring for my wife for over 10 years - she is undercontinueing care - my wife 's care has broken down several times . a mental capacity test and deprivation of liberty order had been issued as my wife wanted to come home . the consultant said we understand Freda wants to come home. but there is no care in place? so I believed this was the grounds of the dol's- a meeting today was held of best intrest but I feel the professionals at the meeting are not acting in my wife's intrest or mine her husband as now my wife is not at home by my side- I am completely deverstated-can any one help me get her home with the right care as we both are suffering.
MICK
- 22-Dec-15 @ 11:55 PM