Protecting Your Car from Theft and Vandalism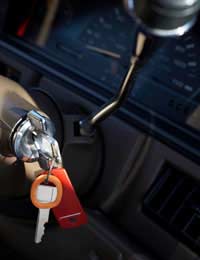 Some types of cars are statistically more likely to be stolen than others. Expensive cars which will attract a high price on the black market, naturally, appeal to thieves; and, some cars are targeted because they are known to be easier to break into. The Home Office issues figures each year detailing the cars most likely to be stolen - people considering purchasing a new car may wish to consult these.
Preventing Car Theft
Cars which have been fitted with special security equipment are said to be over ten times safer than cars without the equipment. Electronic engine immobilisers, in particular, reduce the likelihood that a car will be stolen. Another method which will reduce the chances of car-theft is to have the registration number etched into the windows and headlights - this will make it much more difficult for thieves to sell the vehicle with false number plates. Vehicle and driver registration documents should never be left in the car as these would make it easier for a thief to sell the vehicle pretending to be its legitimate owner.
Cars should always be parked in well-lit areas, preferably where they can be seen by others, or in a secure car-park. A thief is less likely to want to spend time breaking into a vehicle if there are plenty of passers-by. When parked at home, cars should always be locked in a garage if one is available. Whenever the car is parked steering-wheel locks should be used and any car alarm activated.
Car-jacking
The theft of vehicles whilst they are being driven - usually combined with the threat of violence or kidnapping - is a frightening new trend. When using the car in built-up areas drivers should ensure that they remain alert whilst stopped in traffic and that all doors are kept locked.
Car Keys
When the car is parked at home the car keys should not be left within sight or reach of the front door. Car thieves have been known to use fishing rods, or other similar methods, to snatch car keys from inside people's homes in order to steal the car sitting outside.
The key should always be removed from the ignition and all doors shut and locked, including the sun roof - even if the car is just being left for a matter of moments. It would only take seconds for someone to drive the car away. If a car is stolen after being left with the key in it this may result in the insurance policy being invalidated.
Preventing Theft from Cars
Valuable items should never be left in unattended cars. Even if an item does not seem worth worrying about from the owner's point of view it may look like something worth breaking the window for to a thief. If something has to be left in the vehicle it should be kept hidden and locked in the boot. A car alarm should help to deter opportunistic thieves.
Any removable items such as car stereos should be clearly marked with the vehicle registration number. This will make them less attractive to thieves and allow them to be easily identified if they are stolen. The fuel cap should be lockable to prevent fuel theft or tampering.
Care should also be taken when the car is being used - a thief could easily smash a window to snatch a bag while the vehicle is waiting at traffic lights.
Preventing Vandalism
There will inevitably be times when cars will be left unattended in places where nobody is on watch. Some people may be prepared to write off the odd knock or scratch as part of everyday life. However, there is nothing normal about coming back to find that someone has put a brick through the windscreen just for the fun of it.
Cars should be parked in well-lit areas with passing traffic. Wing mirrors should be tucked in and aerials removed so as not to tempt vandals. Special locking wheel nuts, which can be bought cheaply, will prevent wheels being stolen when a car is left unattended for an extended period. This may be of particular relevance if alloy wheel rims have been fitted.
Conclusion
Many modern cars are fitted with a whole range of security systems. However, none of these will protect a vehicle unless they are used. In addition, simple methods like locking the car and parking in well-lit areas should reduce the likelihood of a vehicle becoming part of the car-theft statistics.
You might also like...