Internet Shopping and Internet Fraudsters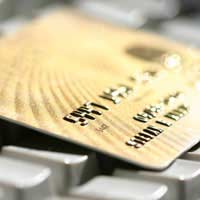 Internet shopping is one of the great conveniences of modern life. It is quick, it is easy and it makes hunting for elusive items in shops a thing of the past, as with the click of a few buttons, it can be ordered, direct to your home, without you having to leave the comfort of wherever you are. But while it has undoubtedly changed the face of retail across the world forever, for those who are inexperienced with it – and even those who are in some cases – internet shopping is rife with danger, not least of all because of internet fraudsters. Of course, most sites that we know and love are perfectly reputable and you would be foolish to never shop online because fraudsters exist – after all, there are criminals in all walks of life, but that cannot stop us from going about our everyday business. But, if we take a little time and care before typing in all of our worldly details, we can significantly reduce the chances of being defrauded online.
Credit Cards
One of the most common fears for people who have not shopped online before is the fear of typing their credit card details or bank details into a webpage, and not knowing who is looking at them. And this is not an irrational fear. In the wrong hands, our bank details are a risky set of details to give away. But there are a few steps one can take to minimise the risk. Firstly, and the most obvious step to take, is to only shop at reputable places. All of the big internet shops which we have heard of fall into this category, as well as online versions of High Street shops. And, to make sure you are on the page you want to be on, make sure you always type in the web address yourself rather than following a link.
Secondly, if you can – and you can repay it straightaway, use a credit card wherever possible when shopping online. Although vulnerable to fraud in the same way as debit card details, credit card companies tend to offer more protection if something does go wrong and you are defrauded – they often insure you against things like this, although each company differs so it is wise to check.
And thirdly, check for the secure symbol at the bottom of the webpage, denoted by a padlock on most browsers. This means the site is secure and cannot be accessed by anyone other than the retailer – thus, no-one else will be able to see your details. It is worth noting here, as well, that web-based emails services such as Hotmail are not secure enough to send bank details with – there is always a danger that they can be hacked into and therefore it is wise to never do this.
Counterfeit Goods
Counterfeit goods can be a huge risk when you shop on the internet. Without seeing them, there is always the danger that you might not be being sold the product you think you are. Again, the safest defence against this is to use reputable sites. But, it may be that you are using an auction site – and therefore the seller could be anyone. While it is still possible that they may be selling counterfeit goods, this is not permissible on most auction sites. Therefore, never agree to a private sale. If your sale goes through the website, you have some recourse if the goods which turn up are not as described – i.e. counterfeit. But if you have made a private sale, your cover is lost.
While the internet is rife with all sorts of people, if you take these few common sense steps, your chances of becoming a victim of internet fraud are vastly reduced. Internet fraudsters prey on those who are unprepared and do not know much about shopping online. By becoming a more savvy consumer, you reduce your chances of being a victim, and give fraudsters far less room to operate.
You might also like...
Hi, I am sure I have been defrauded of 16200 pounds I thought I bought some gold and silver from what looked like a reputable bullion website 3/4 years ago, who I then asked to store the metal in a vault until I was ready to sell on or take delivery of it. I have kept in touch via email over this period, but It now turns out that this site was dissolved a few years back, and I have since tried to get my metal or a refund back, the person I have dealt with has dealt with this in a way that suggests no metal ever existed, he has contacted via email and I even phoned him though he is now operating a identical website out of Ireland! He asked me for proof of identity to send me the metal and I foolishly sent him a photo of my passport. I have reported all this to ActionFraud. They are convinced its a scam and will I hope investigate this...what i want to know now is should I pursue this person through the courts in parallel for my money or even metal?
colin
- 9-Aug-14 @ 10:59 AM